Reflecting on Faithful Citizenship
Using Scripture and a Document from the USCCB (United States Conference of Catholic Bishops)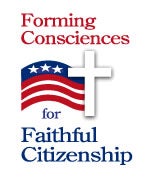 As we prepare to vote in the mid-term elections on November 6, we invite you to take some time to reflect. The format will be largely discussion: first on a passage of Scripture and then on a passage from the document. We will be adapting a program designed by the USCCB. This is not meant to be partisan in any way, but an opportunity to reflect on Catholic values and how our faith influences our citizenship.
Join us in the Parish Hall
Tuesday, October 23, 7:00-8:30 pm
Avoiding Evil and Doing Good
Tuesday, October 30, 7:00 -8:30 pm
Catholic Social Teaching in the Public Square
You will need to have a copy of the Bishops' document available. You can either purchase it or find it online at: http://www.usccb.org/issues-and-action/faithful-citizenship/index.cfm
Saturday Reconciliation Time Change 12/1/18
Beginning Saturday, December 1, the Sacrament of Reconciliation offered on Saturdays will begin one hour earlier. We will begin at 12:00 noon instead of 1:00 PM. There is no change to the Tuesday 10:30 AM starting time.

With this change of starting time, we will not have to cancel when we have an afternoon wedding or other event in the church. Thank you for your understanding and your cooperation.
Mass Times
REGULAR MASS SCHEDULE
Saturday Vigil Mass: 4:30 p.m.
Sunday: 8:00 a.m., 10:00 a.m. and 12:00 Noon

WEEKDAY MASS
Monday - Friday 12 noon

ST. ANTHONY DEVOTIONS
Every Tuesday, after the Noon Mass

RECONCILIATION
Tuesday 10:30 a.m.-11:30 a.m.
Saturday 1:00 p.m.- 2:00 p.m.
(beginning 12/1/18, new Saturday time will be Noon-1:00 p.m..)

Adoration of the Eucharist
First Wednesday of the month 1:00 p.m. - 7:00 p.m.

Parish Registration
Registration forms can be found in the Gathering Room and the Parish Office.

Sacraments of Baptism, Eucharist, Confirmation and Marriage
Arrangements can be made by contacting the Parish Office.

Funeral
When a loved one passes away, please contact the Parish Office regarding funeral arrangements.
STAFF (click on staff member's name for contact information)
NOTES FROM THE DESK OF....
FLOCKNOTE ACCESS
Click here to access form