Response to Corona Virus
November 13, 2020
Dear Brothers and Sisters in Christ,
During these difficult months during the pandemic, I have granted a general dispensation from the grave obligation that we as Catholic Christians have to attend Mass on Sundays and Holy Days of Obligation in the Archdiocese of Detroit, in part to help ease the conscience of those who are unable to be present for public worship due to risk of illness to themselves or their families. The most recent dispensation expires on November 22, at which point we had hoped the pandemic would have eased enough to allow all of us to return in an unrestricted way to our celebrations of the Holy Eucharist. 
Unfortunately, local and state health officials report that we not only continue to experience an increase in cases in our region and elsewhere, but that the rate of increase is rising dramatically and dangerously. I have been in communication with leaders in our Catholic hospitals and they are very concerned about the immediate future and the challenges they face caring for all those in need, not just those experiencing serious complications from COVID-19.
Dispensation
After carefully considering these and other factors, I am extending the dispensation from the obligation to attend Mass on Sundays and Holy Days of Obligation for people living in or visiting the Archdiocese of Detroit until Ash Wednesday, February 17, 2021. As we have from the beginning, we will continue to closely monitor the situation in our region, with an eye on the day – hopefully in the not-too-distant future – when all of us are able to safely reunite in our normal patterns of worship.
Attending Mass
This extension is given so as not to unduly bind the consciences of those who are greatly troubled by the destructive potency of the coronavirus, and to care for the most vulnerable among us, such as the elderly. At the same time, one should not take advantage of the dispensation without a true need. Catholics who have already begun to engage in non-essential activities, such as widening one's social circle or going out to eat, should return to Sunday Mass – an essential activity – as church capacity allows. Our souls greatly need the grace that comes from the re-presentation of Christ's saving death and resurrection and this is what Jesus has entrusted to us in the celebration of the Mass. Just as businesses, schools, and other locations have opened safely, so have our parishes. Our pastors, parishes, and the faithful have worked diligently and adapted well in order to ensure the health and well-being of everyone who has been able to come to church for Mass, Confession, or to pray. I want to offer my sincere gratitude for the efforts that have been undertaken to implement and maintain the first-rate precautionary measures that have kept our parishes and schools safe.
Keeping Holy the Lord's Day
Whether or not they are able to attend Mass, all baptized Catholics are reminded of the grave necessity they have to keep holy the Lord's Day. This a divine law that neither I nor anyone else can ever dispense. Sunday is the day of the Resurrection of our Lord, and as such Christians from the earliest days have set it apart as a day unlike others. When it is not possible to participate in person in the Sacrifice of the Mass, it is vitally important for every member of the Catholic Church to observe the Sabbath by prioritizing prayer, time for God and for family, and works of charity. To that end, many of our parishes have been broadcasting their services over the internet during these last several months. While this virtual means of watching Mass can never replace the unmediated contact with the Real Presence of Our Lord we receive by being present and participating in Mass, these livestreamed Masses have been a way to help Catholics nourish their souls when they cannot be present for Mass. 
Let us trust that the Lord accompanies us through all difficulties, including this pandemic. As we approach Advent and prepare for flu season, we should remember to pray daily for health care workers, first responders, including our priests, and all who are and will offer compassionate service and healing in the months to come. Let us also continue to invoke Our Lady of Lourdes, patroness for those who suffer illness, asking her to pray with us for healing and protection for the people of southeast Michigan and beyond. 
With assurances of my prayers for you, I remain,
Sincerely yours in Christ,
The Most Reverend Allen H. Vigneron
Archbishop of Detroit
OCTOBER 2 UPDATE
The Archdiocese of Detroit is aware of the October 2, 2020 ruling by the Michigan Supreme Court regarding the emergency powers of Gov. Gretchen Whitmer. 
The current safety precautions for parishes and schools in the Archdiocese of Detroit were given under the authority of Archbishop Vigneron, taking into account
expert advice from the medical community. Therefore, they are not affected by this ruling and they will remain in place until further notice.
SEPTEMBER 30 UPDATE
Pursuant to State of Michigan Executive Orders 183 and 185, all non-liturgical parish activities are permitted (with the pastor's approval) provided they:
Practice social distancing, regular cleaning, and face-coverings are worn.
Maintain the following capacity restrictions:

Indoor events for no more than 20% seating capacity (for pre-arranged seating venues like gyms) or 20 people / 1000 sq. ft. for other indoor venues. No non-liturgical events are permitted for more than 500 people.
Outdoor events for no more than 30 people / 1000 sq. ft.
Other parish activities that have been deemed most essential (religious education, youth ministry, and RCIA) are permitted and should follow the guidelines published by the Department of Catholic Schools found here.
Requirements for liturgical activities remain unchanged and should follow the liturgical guidelines found here. It is good for parishes to reopen chapels of Eucharistic Adoration (if they are able) provided they follow liturgical guidelines.
To the Parishioners of the Church of the Transfiguration
August 14, 2020
· The obligation to attend mass has been suspended through Sunday, November 23
· The obligation to attend begins again on Sunday,  November 27.
· All other non-liturgical parish events are still suspended.
· Those who are above age 65 with compromised health, or those caring for the sick are encouraged to stay home. Anyone who is ill should surely stay home!
DISPENSATION - extended until November 23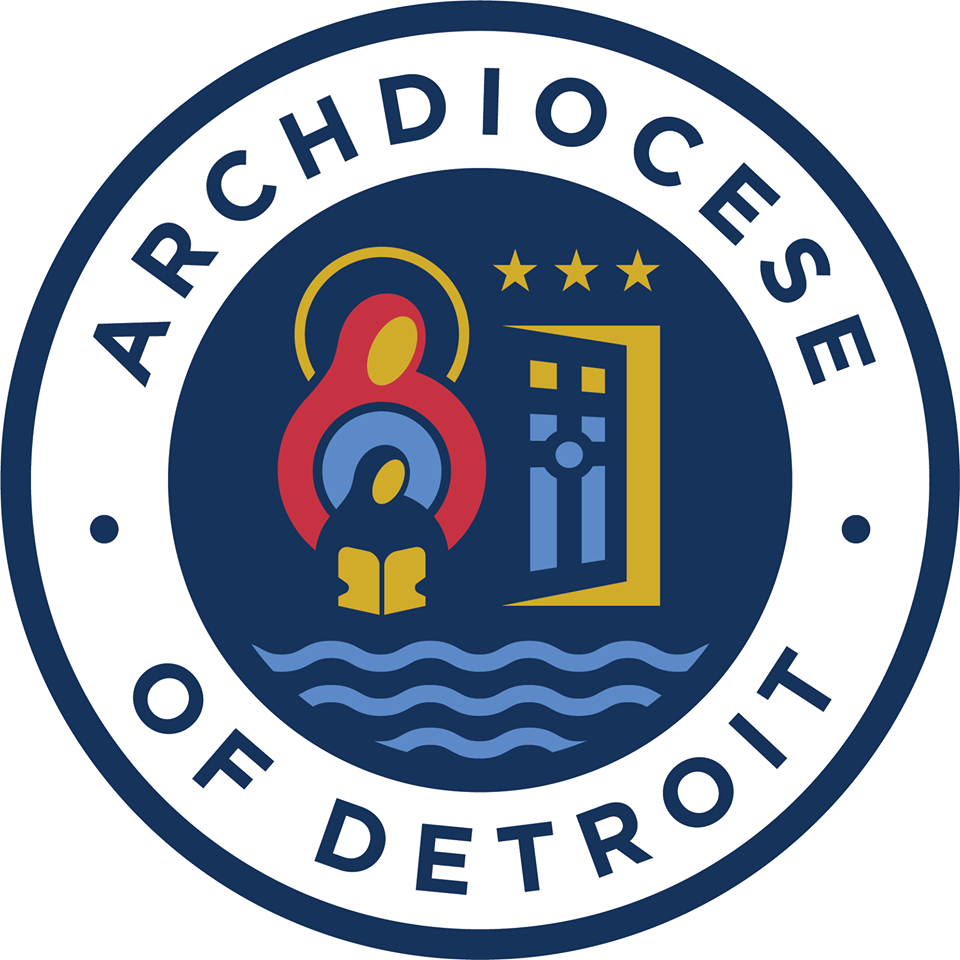 DISPENSATION EXTENDED - until NOVEMBER 23

In light of the continued spread of the coronavirus in southeast Michigan and the impossibility for parishes to safely accommodate all Catholics for Mass on Sundays, Archbishop Vigneron has extended the dispensation from the obligation to attend Mass on Sundays and Holy Days of Obligation for all the faithful in the Archdiocese of Detroit, as well as for all travelers during their time within the territory of the Archdiocese of Detroit, until Monday, November 23, 2020.

While the dispensation from the grave obligation to attend Sunday Mass is in effect, all baptized Catholics are reminded of the grave necessity they have to keep holy the Lord's Day. Archbishop Vigneron wrote a pastoral note entitled "The Day of the Lord" little more than one year ago calling to mind this important spiritual obligation. As the day of the Resurrection of our Lord, Christians from the earliest days set Sunday apart as a day unlike others. When it is not possible to participate in person in the Sacrifice of the Mass, it is vitally important for every member of the Catholic Church to nourish his or her soul during these days. This means cultivating a prayer life in their homes, reading Sacred Scripture – especially the prescribed readings for the Sunday Mass – and making Christ the center of one's home and being his disciple the central identity of one's life. It also means continuing to understand Sunday as a day set apart for the Lord. This means activities on Sunday should be different from the pursuits of the rest of the week. Prayer and time for God, time for family, and works of charity should be central to a Catholic's Sunday.

The obligation to attend Mass (when not dispensed) on Sundays and Holy Days of Obligation is a grave call for us who have been incorporated into Christ by our baptism to share in the sacrifice of Christ to the Father. It is an obligation that we worship God in a way far superior to our most creative and ingenious efforts because it is not our work but Christ's. Therefore, we enter into the work of Christ (as members of his body) and we share in the graces of this sacrificial worship. While the dispensation remains in effect, it is imperative that we remember what awesomeness it is to participate at Mass, particularly in receiving Christ in the Holy Eucharist. To lose the centrality of the Mass in our lives would be a spiritual tragedy.
A general dispensation to all the faithful has been given so as not to unduly bind the consciences of those who are greatly troubled by the destructive potency of the coronavirus as well as to care for the most vulnerable among us.

Catholics who engage in other activities that would present a similar or greater risk of contamination (eating out at restaurants, traveling, non-essential shopping, widening one's circle of contacts, etc.) should begin to return to Sunday Mass as they are able. While one does not commit a mortal sin by absenting one's self during these days due to the dispensation, one would be deprived of the immeasurable spiritual graces Christ desires for his faithful when they actively participate in the Mass.

Archbishop Vigneron and his advisors will continue to monitor and adjust this dispensation as needed for the spiritual and physical health of Catholics in southeast Michigan. Let us continue to invoke our patroness St. Anne for her protection of the faithful in the Archdiocese of Detroit and for a swift end to the coronavirus pandemic.
Limitations on the size of gatherings
For the time being, we are limited to 25% of the seating capacity of the space for any mass.
For us that means:
75 people may gather in Church on weekdays and weekends
50 people may gather in the hall on weekend masses
(That is a total of 125 people at each weekend mass)
This will be a challenge to manage, but again we trust in your cooperation.
We are asking for those who wish to attend to do one of the following:
Email your interest, 24 hours in advance, to:  https://transfigurationsfld.flocknote.com/signup/12216
- or -
Call the office 248 356-8787
Please specify the day and time of mass you wish to attend, as well as number of people. We will respond as soon as possible to let you know if there is sufficient room.
Please understand that we may not have room at the mass you wish to attend.  We need to give everyone an opportunity to participate, so some may not be able to attend every day.  If we find that we have misjudged interest, we will adjust the schedule or space to accommodate.  It is important that people arrive on time. Late comers may not be able to be seated.
Cleaning
It will be necessary for the church and hall to be cleaned and sanitized after each mass. We are purchasing equipment to make that possible and convenient.
We would welcome the support of a few people after each mass to help with this! You may volunteer to Paula Hillman (248 885-5582, [email protected]). It will be helpful to know beforehand, and not at the last minute.
We will be removing all missalettes and hymnals from the church. Disposable worship aids will be provided as needed. You are welcome to bring your own missalette (e.g. Magnificat, Daily Bread, or Living with Christ), or use your phone for the readings.
Once we begin the regular schedule, the church will be cleaned each morning, and thus will open at 11:30 AM (9:30 AM on Tuesdays).
Social Distancing
· You are asked not to congregate in the gathering space before or after mass.
· Please do not to sit in the gathering space during mass, except for medical reasons.
· Hand sanitizer will be available as you enter. (If you have your own, that will help our limited supply last!)
· All present (except the presider) will need to wear masks. Please bring your own. The church will have a very limited number for those who forget.
· The floor and pews will be marked with tape to guide the necessary distancing.
· You will not be able to be seated anywhere you like or in your usual place. Available pews will be marked. (Some pews will remain empty.)
· On weekends, we ask you to follow the guidance of the ushers.
· When the hall is being used on weekends for mass, we ask that you do not move the chairs from their place.
· You should not hold hands during the Our Father, or touch others during the Sign of Peace.
Mass procedures
Music and singing at mass will be adjusted. (Singing adds more droplets to the air.)
For the time being, we will not need servers.
The need for Eucharistic Ministers will be limited.
Only the reader will process in with the presider. We will have only one reader.
All liturgical ministers are asked to volunteer through the parish office.
There will be no collection taken up. You will be welcome to place your offering in the box by the baptismal font or to continue to mail it in or contribute online.
There will be no offertory procession.
Communion
There will be two ministers distributing the consecrated host in Church and two in the hall on weekends.
In church, come forward by the center aisle in one line (not two); return by the side aisle.
Remove any masks or gloves to receive communion.
The Presider and Eucharistic Minister will wear a mask to distribute communion, taking care not to touch the communicant. If there is an accidental touch, they will use sanitizer before giving communion to the next person.
Because of the risk, you are strongly encouraged to receive communion in the hand. If that is not possible for you, we ask that those receiving on the tongue wait until the end to reduce the possibility of passing on saliva after an accidental touch of the tongue.
Dismissal
The presider will not be able to greet you in the gathering space after mass, other than a wave from some distance.
Please do not congregate in the gathering space after mass, but go directly to your vehicle.
In order to avoid a large crowd of people, on weekends, the ushers will direct the dismissal. Since we have four sections in our church, a section at a time will be dismissed separately, beginning with the back section of the church. We ask you to be conscious of the need for 6 feet between you and another as you depart.
Funerals, Baptisms, Weddings
These celebrations may continue under the same limitations and guidelines stated here. We are recommending that infant Baptisms be celebrated outside of Mass due to extra guests and other social distancing requirements.
Confessions/St. Anthony Devotions
Following the requirements of social distancing, Confessions will resume on Saturday, May 30, 12:00 noon, and on Tuesday, June 2, 10:30 AM.
St. Anthony Devotions will resume on Tuesdays after the noon mass, however it will not be possible to have individual touching of the relic.
Conclusion
We understand that none of these are comfortable. Our worship will probably not feel the same and will demand much adjustment from all of us. I am confident that we will have your cooperation, because we want our worship to go smoothly and for all of us to be safe. If we find that any of these procedures need adjustment as we put them into practice, we will make those modifications and will try to inform everyone as best as we can. We will probably learn as we go!
May God bless us as we move forward in these coming months! Thank you for your cooperation.