August 1-2, 2020
18th Sunday of Ordinary Time
"Five loaves and two fish are all we have here..."
Matthew 14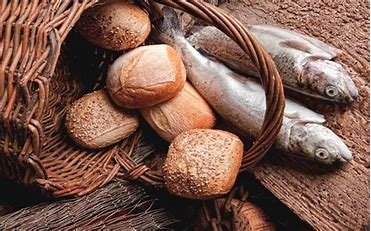 August 2nd is the Franciscan Feast of the Portiuncula. This feast celebrates a chapel in Assisi that St. Francis loved: it was a church he rebuilt, where the Order began, where he received St. Clare, where he died. A plenary indulgence has been attached to visiting the church (under the usual conditions: confession, communion, prayer for the Pope) and it has been extended to any Franciscan church on this day.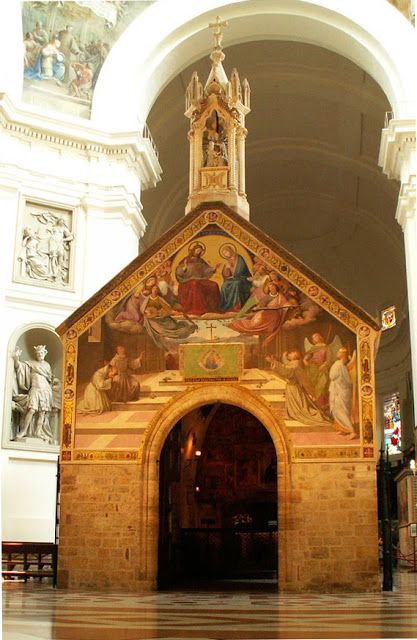 Virtual Pilgrimage to the Holy Land
Goal: 5989 miles
So far this summer:
Laura Dutton, Grace Bostic, Jon Fox, Bona Opatich,
Carolyn Romzick, Claude Paquette, and Fr. Jeff
have logged 167 miles -- 5822 to go!
Below: Church of the Transfiguration, Mt Tabor, Israel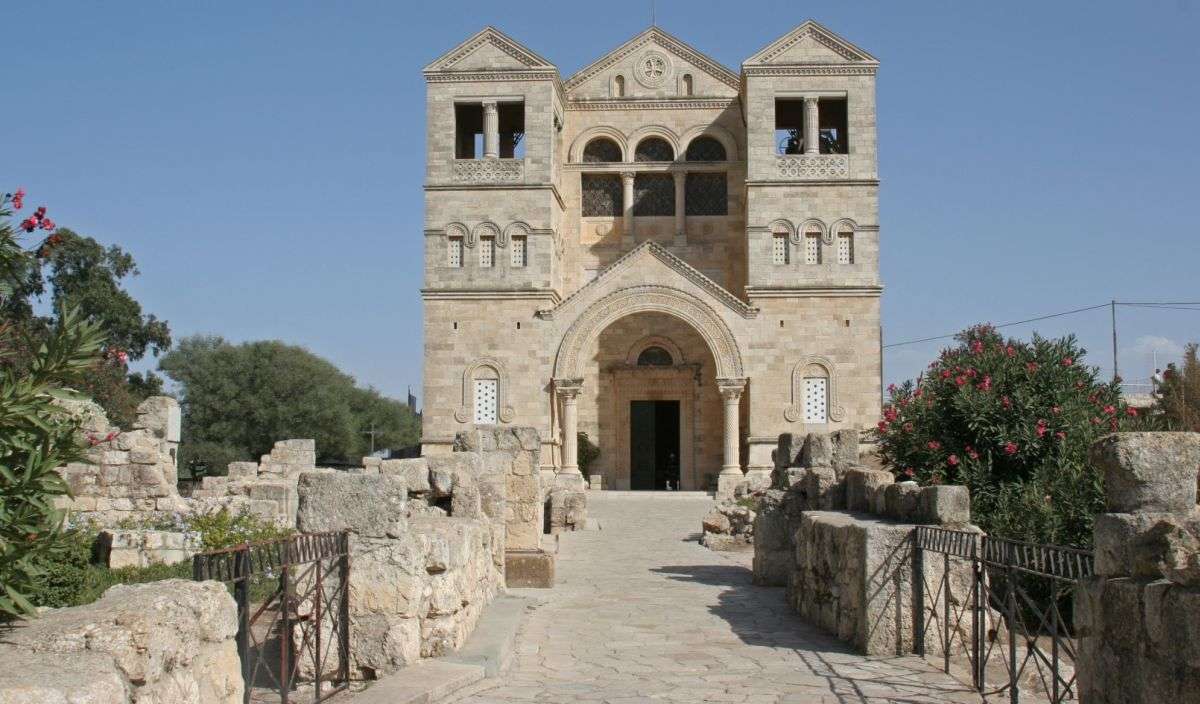 Summer survey fun!
Give yourself a point for every one of these you can say yes to!
Reply to this email by

Wednesday, August 5

, and we'll share result in next week's Flocknote!
I have a crucifix in my home.
I have a Bible in my home.
I read the daily readings every day.
I pray the rosary daily.
I subscribe to St. Anthony Messenger magazine.
I don't eat meat on Fridays, even outside of Lent.
I read the Sunday bulletin.
I read the weekly Friday Flocknote message.
I have volunteered at Franciscan Outreach.
I have gone to confession within the last 3 months.
I receive the AOD magazine Unleash the Gospel.
I attended mass at all 4 parishes that became Transfiguration.
I have donated to charity in the last month.
I read a spiritual book this summer.
I was counted in the 2020 census.
I contribute to the church regularly.
I have received the Sacrament of the Sick.
I have taken communion to a shut in or someone in a nursing home.
I volunteered at SOS.
I have gone to a weekday mass this summer.
I have watched a livestreamed mass.
I am now physically present for mass.
I have served on the Pastoral Council.
I have served on a Parish Commission.
I have seen Pope Francis in person.
I have met Archbishop Vigneron in person.
I have been to Assisi, the home of St. Francis.
I have been to the Vatican.
I pray the morning Flocknote prayer daily.
I have sung in the choir.
I have visited the Parish Facebook page this summer.
I have visited the Parish website this summer.
I am coming to the outdoor mass on August 9.
I have taught religious education to our children.
I receive the electronic Detroit Catholic emails.
I have been a lector at Mass.
I have served as a Eucharistic Minister at Mass.
I have served as a cantor at Mass.
I have served at Mass.
I know my envelop number.
I contribute to the CSA.
I have lit a candle in the bell tower shrine.
I am a Knight of Columbus
I am married to a Knight.
I am a member of the Legion of Mary
I donated usable clothing to St. Vincent de Paul
I have put a prayer intention in the box
I made a retreat last year
I have made a pilgrimage to the Holy Land
I have visited a Catholic shrine.
May She Rest in Peace
+Jean Chappa
Br. Phil Wilhelm, OFM - 60 years a Franciscan
Fr. Mark Soehner, OFM, Provincial Minister of the friars, will preside and preach on Sunday, August 16, at the 11:00 Mass as we celebrate Br. Phil's 60th anniversary of profession (to the day!).
Congratulations, Br. Phil!
Thanks for 60 years of generous service!
Fr. Dennet celebrates 65 years that day and Fr. Jeremy 69 years!
Thank you from Crossroads Soups Kitchen!
(And thanks to Mike Dillon for organizing!)
Dear Mike, Team Members, and Transfiguration Parish,
I am writing to express our deepest appreciation and gratitude for sponsoring Sunday, 7-19-20 at Crossroads Soup Kitchen.We are so very grateful for your commitment to feed hungry people, to serve impoverished people, and to support Crossroads' efforts to ensure that this happened on July 19, 2020!
On Sunday, July 19:…
Transfiguration Parish purchased, prepared, and served a delicious meal at Crossroads.
You were great partners with us in feeding the hungry.
Your meal was delicious.
You came with a team of hard-working volunteers and they were diligent in getting the tasks done.
You helped people in need, to feel welcome and respected.
You ensured that they were well nourished.
Your positive energy and your goodness were evident throughout the day.
You helped all of us to enjoy the day and this important work.
The number of meals served on 7-19-20 was 272.This number is based on number of meal tickets plus a separate system of counting, and continued serving to latecomers until we departed. They did come when the rain slowed down!
For us at Crossroads, it was a joy to work with you and your team. Also, the wonderful people we serve, needed you, and you came through for them mightily. Thank you!
We hope you will be able to share our message of gratitude and appreciation with your team members and everyone at Transfiguration Parish.
Also, with all the gratitude in our hearts we hope and pray that you will be able to sign-up to sponsor a Sunday meal in 2021.
At the same time, we pray that you and your families and everyone at Transfiguration Parish are healthy and doing as well as possible during the Covid-19 pandemic. Please count on our continued support and friendship and know that during this time of social distancing our connections and togetherness with you remain strong!
Gratefully,
Elizabeth Walters, IHM – (Sister Liz)
For Crossroads and the hungry people who came in need Crossroads soup kitchen on 7-19-20
OUTDOOR MASS
Sunday, August 9, 11:00 AM
(weather permitting, of course)
Celebrating the Feast of the Transfiguration
(In lieu of a parish picnic)
Bring your own lawn chair.
Using the altar behind the bell tower.
We will practice social distancing
and send you home with an ice cream treat!
WEEKEND MASS HELP
It is sometimes a challenge to find people willing to serve as
Ushers, Lectors, Eucharistic Ministers
for weekend masses.
If you are interested and able to serve, please contact Amy Burgin, Parish Secretary
Thanks!
South Oakland Shelter News
Due to the requirements to prevent the spread of COVID 19, SOS (South Oakland Shelter) made the decision that churches will not host the temporarily homeless until October 31. Through that time they will be sheltering people in hotels. We will have a conversation with SOS in August to see how we might help in ways other than hosting our guests in our hall.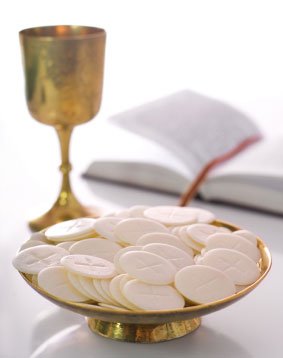 We are aware that many of our parishioners are not able to come to Mass during this time. If any parishioner feels comfortable with someone coming into your home, and would like to receive communion periodically, please let us know, and we will see what arrangements we can make. We are not able to bring communion to nursing homes and senior housing facilities at this time.
Thanks!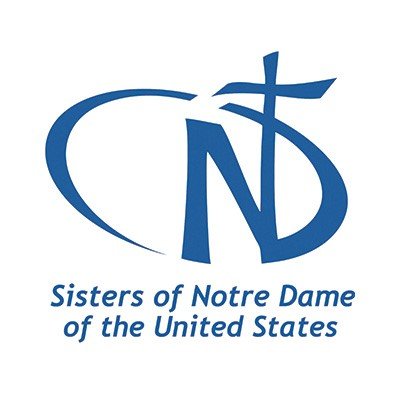 Each year, parishes welcome a speaker on the Missionary efforts of the Church. This year we were to welcome the Sisters of Notre Dame on the weekend of July 26/26, however, COVID-19 made their visit impossible. If anyone would like to contribute to the Sisters' Mission work, you can send your contribution to the Parish and we will see that it is forwarded to the Sisters. Thanks for your generosity!
Given the changes around the country regarding social gatherings, Mass gatherings etc., the Sisters of Notre Dame have decided to put our Global Missions presentation up as a video on our website. Previously, during the summer months, sisters would make presentations around the country at various parishes to educate and inform people of our international mission programs. However, the COVID 19 pandemic has made in-person presentations this year very difficult.
Since our sisters have decided that travel this summer will not be a safe option, we thought we could share some information about our Global Missions with you through our website,
click here
.
Thank you in advance for your interest in and support of the Sisters of Notre Dame Global Missions. Funds raised through mission presentations each year make up a significant percentage of our overall Global Missions funds. We are saddened that, due to the COVID-19 pandemic, we are unable to visit parishes in person this year to share our mission stories and to meet parishioners.
Blessings,
Julie Grazia
MCP Coordinator
Sisters of Notre Dame of the United States
Mass Times
WEEKEND MASS SCHEDULE
Saturday Vigil Mass: 4:30 p.m.
Sunday 8:30 a.m. and 11:00 a.m.

WEEKDAY MASS
Monday - Friday 12:00 Noon (church doors open at 11:30 a.m., except on Tuesday-doors open at 9:30 a.m.)

Reconciliation: Tuesday 10:30 a.m.
Saturday 12:00 Noon (church doors open at 11:00 a.m. on Saturday)

Parish Registration
Registration forms can be found in the Gathering Room and the Parish Office.

Sacraments of Baptism, Eucharist, Confirmation and Marriage
Arrangements can be made by contacting the Parish Office.

Funeral
When a loved one passes away, please contact the Parish Office regarding funeral arrangements.
STAFF (click on staff member's name for contact information)
Events
NOTES FROM THE DESK OF....
FLOCKNOTE ACCESS
Click here to access form