| 25225 Code Rd., Southfield, MI 48033
| 248-356-8787

We are a Franciscan Body of Christ embracing all people through liturgy and service.
Due to the possibility of poor weather
the 11 AM Mass on Sunday June 26
will be in the church,
not outside.
Vacation Bible School
2022 VBS Registration Form (click here)

August 1 through August 4
Vacation Bible School is back for 2022.
The location is Church of the Transfiguration, 25225 Code Road in Southfield 48033.
​Registration Information


Vacation Bible School is Monday, August 1 through Thursday, August 4.
The VBS runs from 8:30 a.m. to 12 noon. The doors open at 8:00 a.m. each day.
Space is limited so make sure to register early! Please register by Friday, July 29, 2022.
Our program is for ages 4 through 12 / Pre-Kindergarten through Grade Six.
To register your children online, please scroll down to the form below.
A registration form is required for each child.
If you or one of your middle school/high school children would like to volunteer, check out the volunteer information.


Volunteer Opportunities


There are many ways you can join us on our train journey through the northwest!
Take a look at all our volunteer opportunities and find the spot that's right for you!
You can sign up as a volunteer by contacting Diane Klucka at (734) 716-7771.


Volunteer for VBS Preparations
Supply Prep: Help gather and sort supplies for the various VBS stations.

Decorating Week: It's time for the decorations to go up! Help put the large stage pieces together and decorate the VBS space.
Volunteer the Week of VBS
Crew Leader Lead a group of 5 or 6 children through the different events each day. You'll be their guide and their friend as you go to each station. Your job is to reinforce what is being taught and to keep kids on the right track throughout the week.
Station Assistant Assist the Station Leaders in organizing and leading games and activities. Choose between Games, Imagination Station, or Bible.
Sanitation Crew Help clean and sanitize the building, bathrooms, station areas, and equipment.​
Sign In Crew Do you like to organize and keep things tidy? Do you have a welcoming personality? Then come and help with our Sign In Team! Each day we need friendly, smiling faces to welcome children in and make sure they are in their crew.
Sign In Runner Help during the registration time by assisting kids in finding their crews. You will lead kids into the parish activities building and help them find their crew leader.
Snack and Supply Helper Don't have any time to physically help? You can help by supplying us with snacks, supplies, and decorations! Contact Diane Klucka for specific information, (734) 716-7771.
WEEKEND MASS SCHEDULE
Saturday Vigil Mass: 4:30 p.m.
Sunday: 8:30 a.m. and 11:00 a.m.
WEEKDAY MASS
Monday - Friday: 12:00 p.m. (Noon)
(Church doors open at 11:30 a.m., except on Tuesday - doors open at 9:30 a.m.)
RECONCILIATION
Tuesday: 10:30 a.m.
Saturday: 12:00 p.m. (Noon)
(Church doors open at 11:00 a.m. on Saturday)
Parish Registration
Registration forms can be found in the Gathering Room and the Parish Office.
Sacraments of Baptism, Eucharist, Confirmation and Marriage
Arrangements can be made by contacting the Parish Office.
Funeral
When a loved one passes away, please contact the Parish Office regarding funeral arrangements.
13th Sunday in Ordinary Time
June 25-26, 2022
11AM Mass will be in the church
due to threat of rain.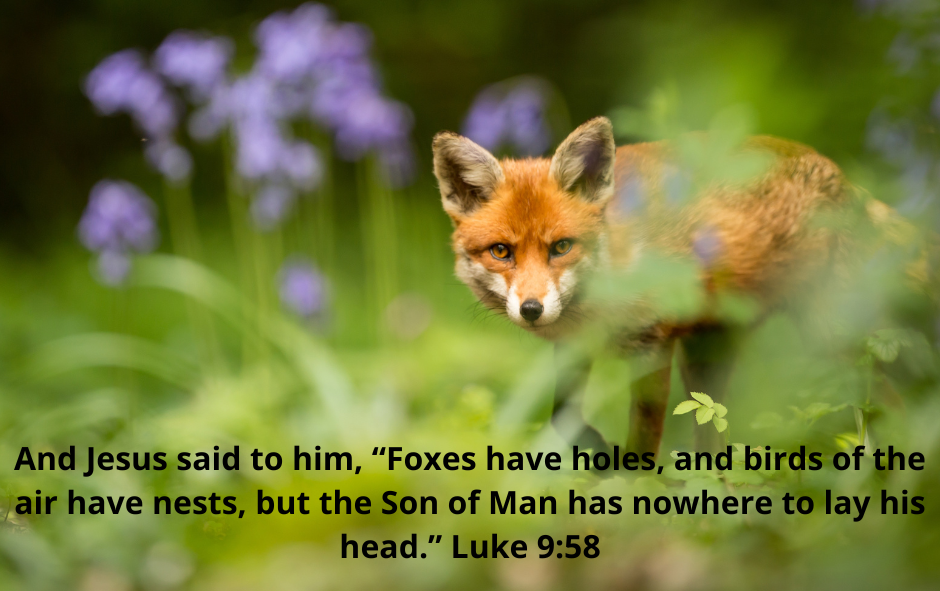 11:00 AM Mass Sunday, June 26,
will be in the church.
June 26, 3:00 PM
"More Love than Skill:
A Saint and his Fiddle"
Drama with Br. Al Mascia, OFM
on the life of Blessed Solanus Casey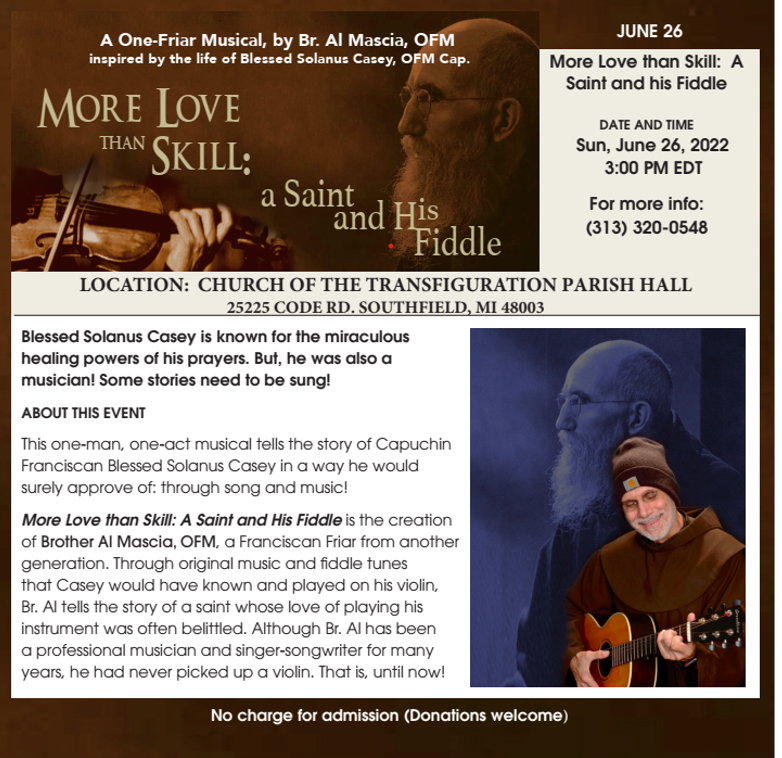 This Week
Monday - Friday Mass 12:00 Noon
Confessions: Tuesday 10:30 AM
Saturday, 12:00 PM
Masses continue to be livestreamed:
On weekends, only the 8:30 AM mass is livestreamed.
It is saved so you can watch at any time after.
July 4
Mass - 9:00 AM
July 10
Providing lunch at Crossroads
July 16-17
Visiting Missionary
Mission Appeal Weekend
July 20, 1-6 PM
K of C Blood Drive
July 28, 7 PM
Congregations Care:
An Evening of Interfaith Learning and Giving
to Support Ukrainians
at Congregation Shaarey Zedek
(Fr. Jeff participating)
August 1-4 Vacation Bible School
August 7
Transfiguration Parish Picnic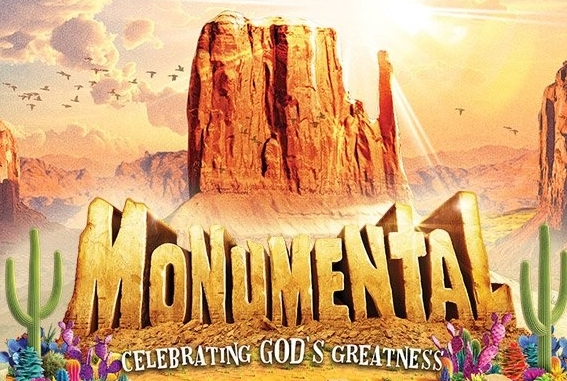 Vacation Bible School
Theme: Monumental: Celebrating God's Greatness
Date and Time: August 1-4; 8:30am-Noon
(Monday - Thursday)
Location: Church of the Transfiguration Parish Hall
Registration Forms: Info. Desk in Gathering Rm.
For more information, call or text Diane at
734-716-7771.
Last Sunday's Corpus Christi Procession
New COVID Liturgical Protocols
Those who are fully vaccinated may wear a face-covering and social distance but are no longer required to do so in churches.
Those who have not been fully vaccinated are to continue wearing face-coverings and to practice social distancing to protect themselves and others in churches. Because a parish community – and our society – requires mutual trust and a commitment to the common good, each individual is asked to make the best decisions for himself as well as for others. Parishes do not have the responsibility to verify who is and who is not vaccinated.
Each parish is to provide a portion of the church – with a size to be determined by the pastor – where social distancing and face-coverings are consistently maintained. This section is for anyone, vaccinated or unvaccinated.
All unvaccinated Catholics are encouraged to consult with their doctor about the vaccines. Resources to assist Catholics in understanding the moral use of COVID vaccines can be found at aod.org/vaccines.
The Sign of Peace may resume with the normal wording, "Offerte vobis pacem / Let us offer each other the sign of peace," allowing parishioners and families to make their own determinations about how widely to share some sign of peace.
FLOCKNOTE ACCESS
Click here to access form
FROM THE DESK OF FR. JEFF....